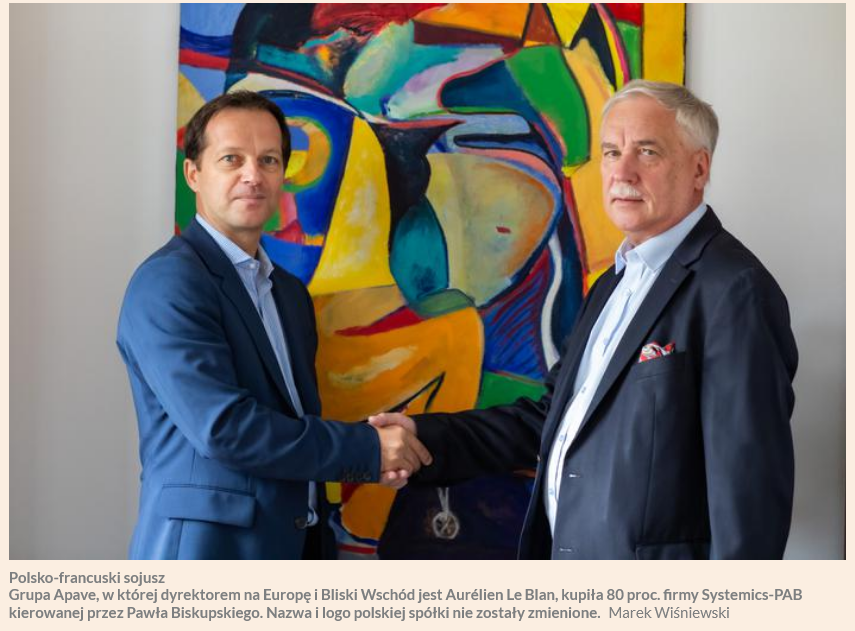 In September Systemics-PAB hosted its new investor Apave International represented by Aurelien Le Blan, Director for Europe&Middle East who was interviewed by the national business daily Puls Biznesu.
Please find a link to the article describing new opportunities for both companies in the field of 5G private networks and others. And below the meaning translation in English.
September 21, 2023
Publication: Puls Biznesu, Poland
Author: Małgorzata Grzegorczyk
Publisher: Bonnier Business (Polska) sp. z o.o.
link: "Spec od 5G dołączył do francuskiej grupy z branży TIC"
In English:
The 5G expert has joined Apave
The majority stake of Systemics-PAB, specialized in telecommunications services, has been bought by the French group from TIC sector.
There are several large European players in TIC (testing, inspection, and certification) services. The French-based international group Apave, which had just over EUR 1 billion in revenues in 2022 and operates in over 55 countries, wants to catch up with the leaders. Three years ago, Philippe Maillard took over as CEO and presented a new strategy. By 2025, the company is to double its revenues from foreign operations, which constituted 20% of the Group's turnover at the end of 2020. To achieve this, is growing organically and through acquisitions.
– We have carried out 13 acquisitions so far, the largest of which is the purchase of the Spanish Eurocontrol with close to 1,400 employees. This year, we bought the first company in Poland: Systemics-PAB. We do not exclude the possibility of taking over further Polish companies from other industries that interest us, says Aurélien Le Blan, Apave's Director of Europe and Middle East.
He doesn't disclose the value of the transaction.
Many branches, many acquisitions
Apave operates in the TIC sector, but also in the training, technical support, and consulting sectors. Its clients for example, include companies from the industrial, aviation, telecommunications, construction, energy and chemical sectors of activity, including among others Airbus, EDF, Safran and Auchan, as well as schools and governments.
– In France, we are the second largest private training company, we train 415,000 people annually in areas such as electricity or machine operation. We invest in sectors that are growing rapidly. In Norway, we bought a company specializing in digital training, and in Slovenia, a company providing services for nuclear power plants, including equipment installation, says Aurélien Le Blan.
Founded 150 years ago by a group of industry people, the company, which is owned by the Gapave association, opened up its capital mid-2021 and admitted a new investor to shareholding for acquisitions. The Fund PAI Partners (formerly the branch of Paribas responsible for PE transactions) bought a minority stake.
Expanding the scope of services
Systemics-PAB, founded in 1990, had PLN 40 million in revenue and PLN 5 million in profit last year and employs over 100 people, specializing in services for the telecommunications industry.
– We were looking for an investor to expand the scope of services, although we currently generate 80 percent of our revenues abroad. A larger company may participate in larger tenders. Just after joining the French group, we won the tender for the project of the national 5G network and services laboratory, which is composed of the Gdańsk University of Technology, the Warsaw University of Technology, the Wrocław University of Technology, the Poznań Supercomputing and Networking Center, the AGH University of Science and Technology, and the Institute of Telecommunications in Warsaw. We would also like to develop new services – certification. It's like being an auditor in the financial sector – says Paweł Biskupski, founder and president of Systemics-PAB, who, together with his partner, currently owns 20 percent of shares.
The development of private 5G networks in Poland was limited by the lack of regulations regarding the frequencies on which they could operate. On September 15th, the President of UKE Polish Regulator published a decision that private 5G networks in the dedicated 3800-4200MHz band can now be launched commercially.
– We do count on the dynamic development of this market in Poland because it is a big impulse for industry 4.0 and companies that operate in the 5G environment. 2,000 private networks were created in Germany this year, and 20 thousand in the world. The global market will be worth USD 35 billion by 2030 and is growing rapidly. In 4.0 factories, where there are many sensors, a reliable and fast connection is a must – says Paweł Biskupski.
– Private networks are going to boom. We are able to offer their creation by Systemics-PAB to companies where we provide testing, inspection and certification services. We have local branches in 55 countries, which can also be helpful in winning contracts for the Polish company. In addition to certification, we are considering launching technical training at Systemics-PAB, says Aurélien Le Blan.
The top five European players in TIC branch are Swiss SGS, French Bureau Veritas, German Dekra, British Intertek and German TUV Sud, according to the Fortune Business Insights publication. Experts estimate by 2029 the market will grow from USD 271.3 to USD 328.2 billion.
The Polish French alliance
The Apave Group, led in the Europe and Middle East by Aurélien Le Blan, bought 80% of Systemics-PAB's shares and managed by Paweł Biskupski.
Name and logo of the Polish company have not been changed.