Executive summary of independent tests of Polish mobile operators in the EU and beyond, conducted by Systemics-PAB between 13-31 of August 2018 that present the quality of voice calls and the performance of data transfers.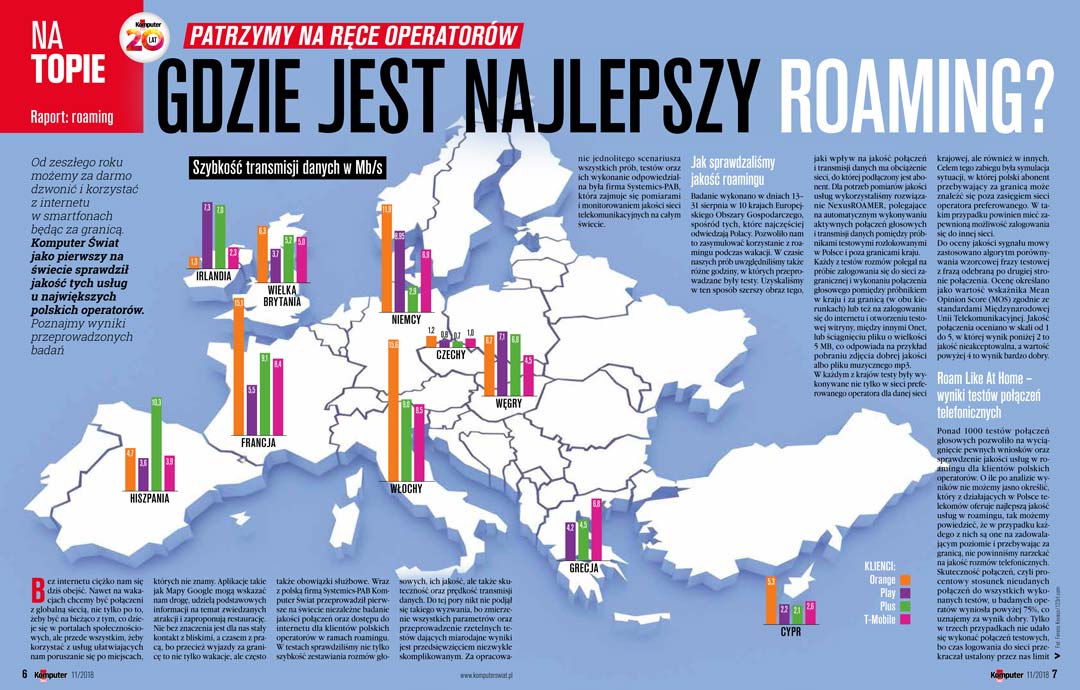 Source: A fragment of an article in Komputer Świat, monthly consumer magazine in Poland, published in October 2018. The magazine belongs to the portfolio of Ringier Axel Springer Media AG, multimedia company in Central and Eastern Europe.  Note: The below summary translation covers solely a part of the article and the attached image does not reflect the whole story published in the print copy.
We look over the shoulders of mobile network operators.
Who offers the best roaming service?
Currently, it is hard to do without internet access. Even during holiday time, we want to be connected to the global network, to be in touch with appears on social media and to be able to use the various services that may be useful in trips to unfamiliar places. For example, Apps like Google Maps might offer us directions and provide us with basic information about local attractions and restaurants. We greatly value continued contact with relatives and also may need to be online with the office, because foreign trips are made for business reasons as well as for vacations.
Together with the Polish company Systemics-PAB, we have carried out the first worldwide independent survey of the quality of mobile calls and internet access for clients of Polish mobile networks when roaming in other countries. We have checked not only the speed of connection and quality of voice calls but also data performance. So far, nobody has undertaken this type of project on such a wide scale, since measuring all of the necessary parameters and carrying out diligent tests which give reliable results is extremely complicated and time-consuming. Systemics delivers mobile network measurement, testing, monitoring and analysis services for mobile networks all over the world and was responsible for determining the necessary test scenarios and for their execution.
How did we check the roaming quality of Polish mobile networks?
The campaign was conducted between 13-31 of August 2018, in 10 EU countries the most popular destinations of Polish clients (Print charts and tables also show Turkey, Egypt, Ukraine and Switzerland here in line the page not mentioned by the journalist). We simulated the use of roaming services during vacation time. We also took into account the time-of-day of each test. We have obtained a wide picture of the performance offered by each mobile network operator based on the quality of voice calls and the performance of data transfers. For the measurement of service quality, we applied a system, which automatically generates active voice calls and data roaming transactions between test probes located in Poland and abroad.
Each voice call test consisted of an attempt to connect via the foreign mobile network and place voice calls between probe in Poland and abroad (in both directions). For data, each test consisted of an attempt to connect to the internet and open a specified site, for example – www.onet.pl, or a download of a 5MB file (corresponding to the size of a high-quality photographic image or an mp3 sound file).
In each country, the tests were made not only in the mobile network of the preferred mobile network operator in given domestic network but also in others. We wanted to check what happens when a Polish cellular customer travelling abroad is beyond the reach of the preferred mobile network. In such cases, the client should be provided with the possibility to log in to an alternative mobile network.
The evaluation of voice quality was analysed and reported as a Mean Opinion Score (MOS) in accordance with the standards of the International Telecommunications Union (ITU). MOS estimates the call quality in the range 1 to 5 where a result of under 2 is unacceptable and over 4 is considered very good.
Roam Like At Home – results of phone calls
Conducting over 1,000 test calls allowed accurate conclusions to be drawn regarding the quality of Polish mobile network operator's roaming services. It is hard to determine which operator provides the best quality of roaming, but for every operator, services are satisfactory and, as users, we should not experience any problem with phone call quality.
The effectiveness of mobile connections, i.e. the percentage of successful connections to all made tests among the tested mobile operators amounts to 75%, which is viewed as a good result…
for more please follow Komputer Świat, print edition, October 2018.
And also online: Komputer Świat, Onet, Newsweek, PC LAB.


About Systemics-PAB
Systemics-PAB supports mobile operators and regulators in the investigation of the real quality of mobile services received and perceived by end-users. It also recommends how to effectively optimize cellular networks in the face increasing data transfer demands and the ever increasing sophistication of the supporting technologies. The company operates world-wide.