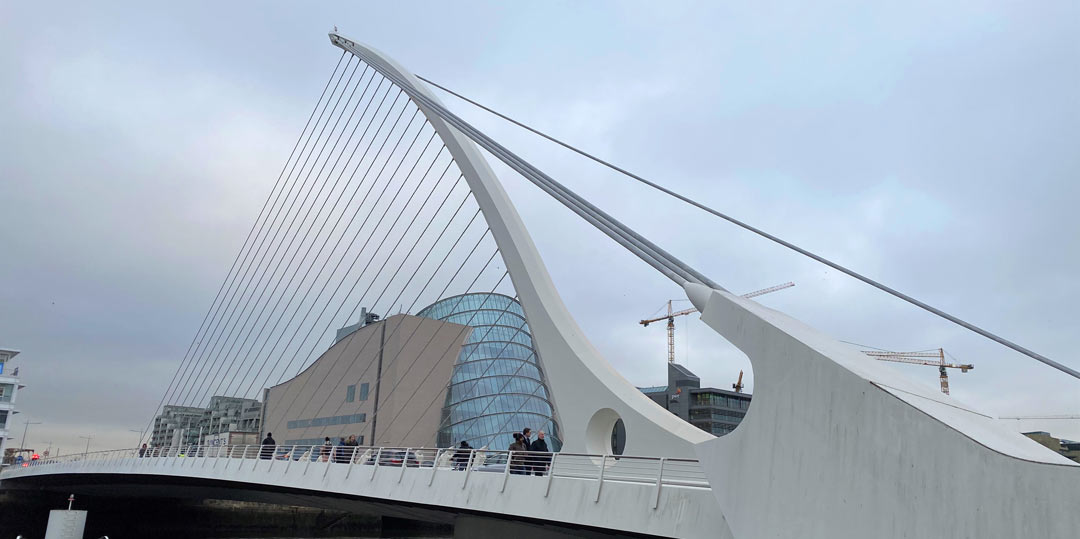 Three Ireland commissions independent benchmarking services Systemics-PAB to conduct an impartial analysis of 5G networks in Ireland
Systemics-PAB, a leading provider of benchmarking services for mobile operators and regulators has conducted an independent survey of 5G coverage in Ireland to international standards. The comprehensive survey of 5G throughout Ireland was carried out at the end of October and beginning of November 2020 and included the largest cities, Dublin, Cork, Galway, and Limerick. The survey found that Three is the clear leader in terms of 5G coverage in Ireland right now.
The survey also covered a wide selection of roads and towns including most of the counties and most populous urban centres in Ireland, covering more than 2,700 km. When designing the survey, Systemics-PAB also used publicly available information from operators' websites related to advertised 5G coverage.
5G coverage, number of 1000 x 1000 metre squares
with RSRP value for 5G radio – 110 dBm and above

The total numbers shown in the table above represent the unique 5G coverage samples per operator that we measured in our country wide survey. While the three main operators all have reasonably good 5G coverage in Dublin and surrounding areas, outside of County Dublin Three is the clear leader in terms of 5G coverage in Ireland right now measured geographically and in terms of population.
Commenting on the survey of 5G coverage in Ireland Systemics-PAB CTO, Jan Kondej said: "Systemics has been performing mobile network tests in Ireland for over five years. During that time our measurements showed a significant evolution of mobile networks in Ireland. In 2020 we have seen a very high level of activity with the launch of 5G in Ireland in main cities as well as suburban locations. Our independent survey clearly shows that Three Ireland is the operator with the largest 5G coverage measured geographically and in terms of population. Congratulations to Three on the result and we are pleased that Systemics-PAB is helping to stimulate the market through our tests".
Speaking on the survey, David Hennessy, CTO of Three Ireland stated: "We started our 5G rollout with Ericsson last year, building our network to bring customers in both rural and urban areas the best possible experience of 5G. We now have 423 5G sites across the country, with 5G available in every county. Our comprehensive rollout means Three currently has 37.5% population coverage, and rollout is continuing at pace. We commissioned this report from Systemics-PAB to validate exactly how our coverage stacked up from a geographic and population basis. I am delighted to see this report confirm that we have the largest coverage in the country. Providing a 5G network that serves all of Ireland has been our focus from the beginning, this survey demonstrates our commitment to delivering Ireland's largest and best 5G network."
The survey analysis was conducted to international standards whereby a measurement car equipped with a Rohde & Schwarz TSME-6 radio scanner collected radio signal samples in all frequencies allocated to 5G in Ireland. Scanner antenna was placed on the roof of the car.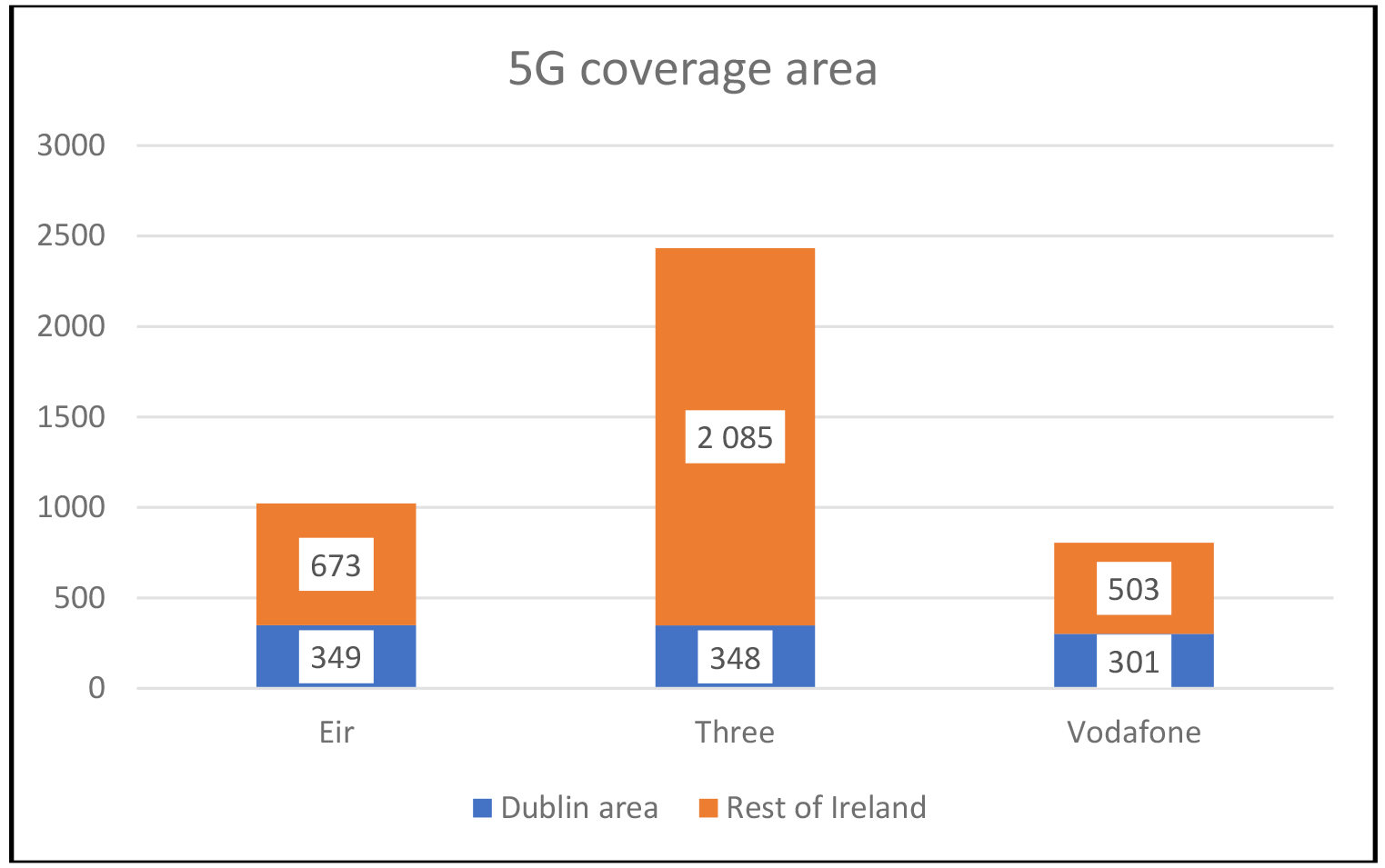 To view the report in full please download the attached pdf.


  Ireland 5G coverage report 2020 (920 KB)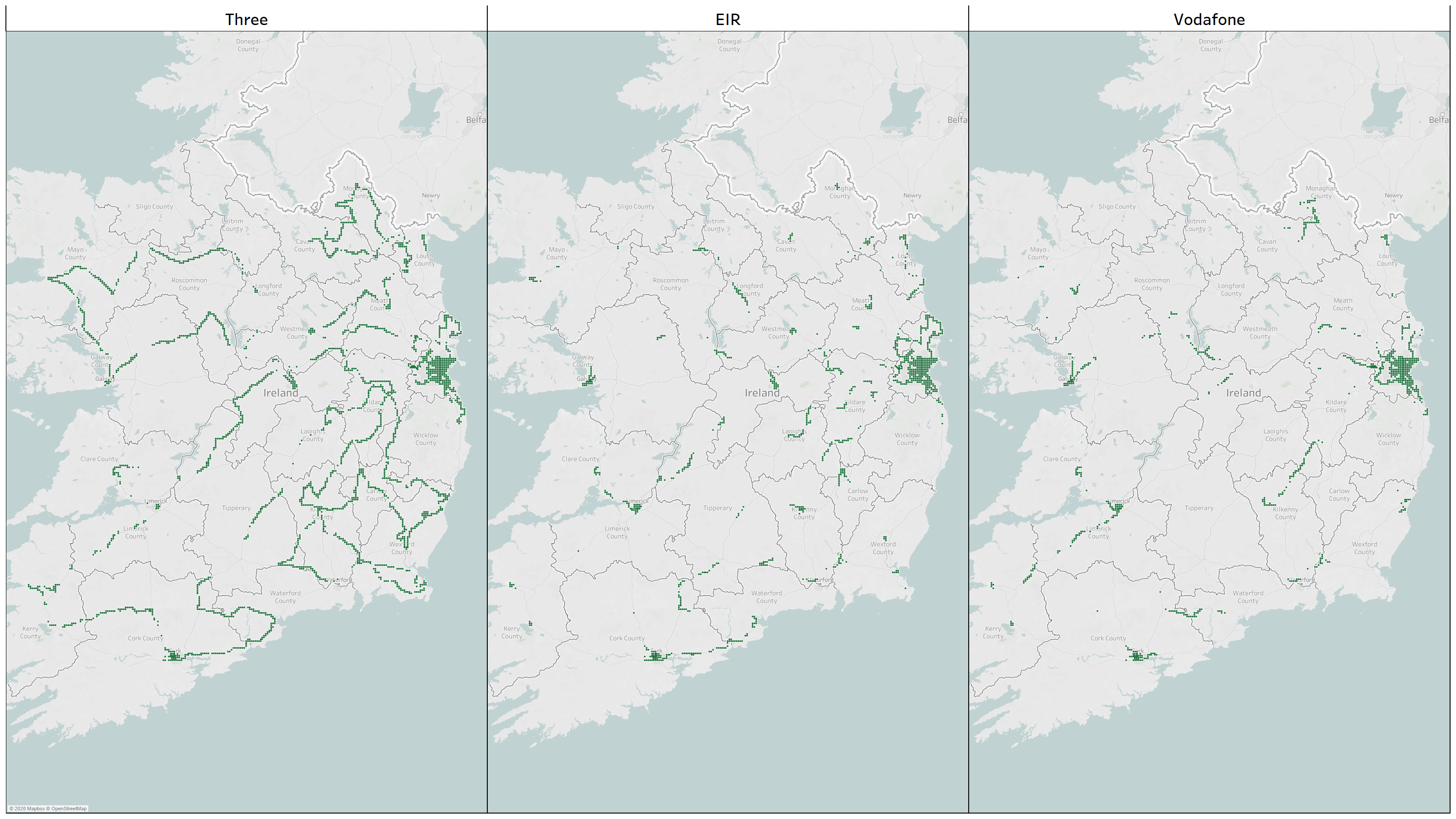 About Systemics-PAB
Systemics-PAB is a leading provider of independent Quality of Experience benchmarking services for mobile operators and regulators. Our mission is to assist customers to understand and address the variety of issues affecting quality in mobile and fixed telecommunication networks.
We have conducted various benchmarking campaigns of mobile networks in more than 50 countries representing among others Eurasia, Middle East, Africa, and Australia.
About Three Ireland
Three is one of Ireland's leading mobile operators with 35% market share and almost 2.4 million customers. Three's network is built for data with 99% 4G coverage and carries over 68% of all mobile data on its network, more than all other operators combined.
Three has recently launched its 5G network which is available to customers in every county.
Three is 100% owned by renowned multinational technology innovator CK Hutchison Holdings (CK Hutchison). Its diverse businesses employ approximately 300,000 people in over 50 countries worldwide. CK Hutchison has five core businesses – ports and related services, retail, infrastructure, energy and telecommunications.